EJ Shanley & Sons became one of the first customers to take delivery of a Kiverco picking station and feeder following the appointment of the Finlay Group as a licensed hire specialist in 2017.
The company, based in Trowbridge in Wiltshire, is a skip hire company that also offers waste disposal, muck away, scrap and scrap car collection as well as the purchase of ferrous and non-ferrous metals.
Founded in 1964 by Edward Shanley, the company is now run by son Terry Shanley whose children Paul, Andrew, Keelan and Cymberly also work for the business. The company has a wealth of experience in waste management gained over the last 5 decades and the team is looking forward to moving into new areas now that the new kit is productively working on site.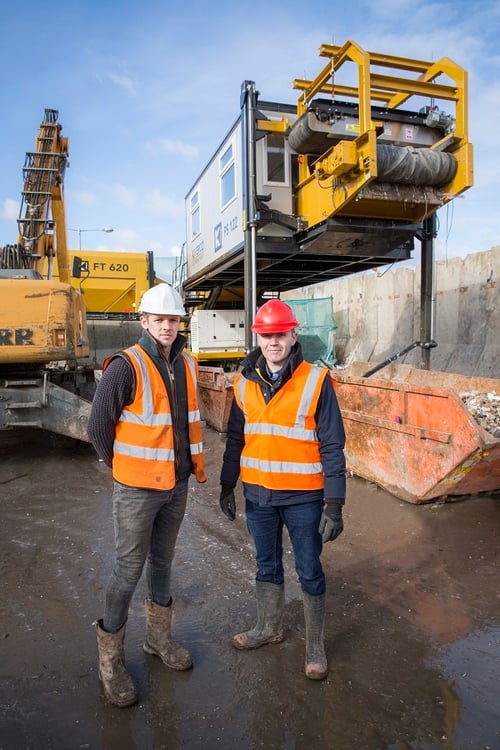 Keelan Shanley is delighted with the decision to invest in the new plant:
"We trialled a Kiverco PS122 Picking Station and FT620 Feeder Trommel late last year and the kit never ended up leaving the site as we found it so much easier to go through skips and separate material. It's been so simple to learn how to use and is a brilliant addition to the business. The future is recycling and I think we can do far more with this plant and move into processing different materials."
The equipment is running for eight hours a day with a team of five operatives - one feeding the material into the trommel and the other four working in the picking station. It enables 40 skips per day to be sorted, has already delivered significant productivity gains and has also enabled staff to move from working outdoors to indoors.
The Kiverco FT620 Feeder Trommel offers exceptional productivity in a compact structure and is fast, simple and safe. Fed by a grab it separates the fines from the material brought in by the skip. It's fully enclosed drum screen minimises noise and dust and also has interchangeable screen media.
The PS122 insulated Picking Station offers two to six bay sorting to recover stone, wood, paper, plastics and card. A variable speed fan blower removes lights from the material, whilst an overband magnet recovers ferrous metals. The unit is fitted with PVC windows and doors for operator comfort and the option of air conditioning is also available for hot weather work.
The Kiverco range is ideal for small and medium sized waste processing operators and mobile contractors. Modular components can be selected to create a bespoke solution for processors and these are quick and easy to set up without the need for cranes.