The Kiverco Compact Density Separator (DS150) has impressed many people throughout its travels around Europe recently. The machine, which is also part of the popular Kiverco Compact range, took part in demonstrations in Denmark and France, operating alongside various other machines.
Also known as a Windshifter, the Kiverco DS150 has been designed to efficiently separate material into usable fractions, using the latest in air separation technology. This model can be used on its own or as part of the Kiverco Compact plant range. With its hydraulic jack leg support system and wheeled site axle, it offers safe and rapid set up and transport capability on or off-site. The quick set-up time, with only basic tools, means it is ideal for various different projects.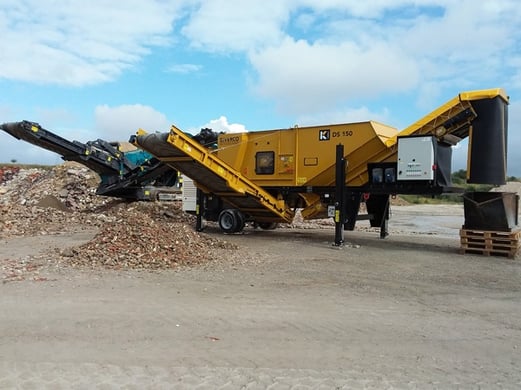 It began its journey in Denmark, at a live show organised by Aksel Benzin, Kiverco's dealer. The client took in a wealth of demolition waste and the machines (including Telestack and Powerscreen models) got to work in the large sand and gravel pit. The Kiverco DS150 worked alongside a Powerscreen Warrior 600, processing contaminated hardcore waste to produce clean hardcore product.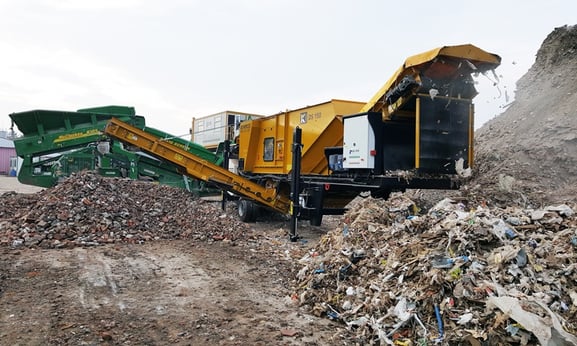 The machine then moved on to Lille, France where it worked alongside a McCloskey R105 Screen processing mixed Construction and Demolition waste. This demonstration, organised by Kiverco's dealer in Northern France, TP Environnement, featured the Kiverco Picking Station PS122, also from the Kiverco Compact plant range. The clean mixed hardcore product recovered from both the DS150 and PS122 will be used as a fill/sub base for road construction.
David Carlisle, Export Sales Manager says, "Clients were impressed with the ability to 'fine tune' the settings on the DS150. This versatility allowed them to produce a clean heavy fraction across a range of different input materials and sizes."
The final leg of its journey was in Marseille, France, where the client supplied the most contaminated construction waste in order to challenge the Kiverco DS150! The Kiverco dealer for southern France, Framateq put the machine to work alongside both a Powerscreen Trakpactor 320 and a Warrior 1400. The Kiverco DS150's ability to produce clean hardcore product was clear to see – the end result didn't disappoint and the client was delighted with the final product.
For more information on the Kiverco DS150 and other products in the Kiverco Compact range you can visit: http://www.kiverco.com/products-solutions/mobile-recycling/density-separator